April is National Donate Life Month
April is National Donate Life Month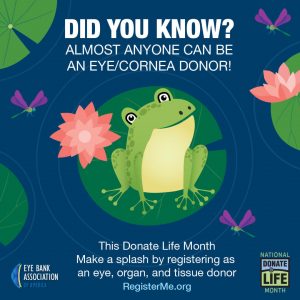 National Donate Life Month an annual campaign that recognizes and celebrates those who have received transplants, recognize those who continue to wait, honor donors and donor families, and thank registered donors for giving hope. Inspired by the natural world of a pond coming to life in the spring, this year's DLM theme is Make a Splash!
There are also more than 12.7 million people worldwide living with treatable blindness. SightLife can restore their sight, but we need your help. You can help by registering your decision to be an organ, eye and tissue donor at www.RegisterMe.org.
SightLife Family Services will be hosting a "Stories of Transformation" webinar on Thursday, April 21 at 5pm PT/8pm ET. The webinar will feature three cornea transplant recipients who will share their stories of sight restoration. We hope you can join to be reminded of the incredible impact of our work. Register today!
SightLife Stories of Hope