Growing Up Griz: A Beartooth Provider's Tale
Growing Up Griz: A Beartooth Provider's Tale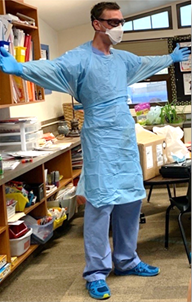 RED LODGE – Growing up in Missoula is the beginning to Dr. Gregory D. (Greg) Burfeind's story of finding Red Lodge and Beartooth Billings Clinic. At The University of Montana – and a robust Griz fan for life – Burfeind studied sociology and found a passion for medicine in a Wilderness EMT class. He sustained his undergraduate years working in the athletic equipment room at U of M and at a summer church camp on Flathead Lake, where he worked with and eventually would marry his wife, Kelly. After receiving his bachelor's degree, he was a school bus driver and worked in Glacier National Park. "What drew me to medicine is I wanted to do something where I could tangibly help people," said Burfeind. "Two days after getting married at the camp on Flathead Lake, I was starting medical school in Denver." Life hasn't slowed down since. He graduated from the University of Colorado School of Medicine and moved on to residency at McKay – Dee Hospital in Ogden, UT.
Burfeind recalls visiting Red Lodge and the Beartooth Mountains with Kelly for the first time ten years prior to joining Beartooth Billings Clinic. At the time he commented, "this would be a great place to live … back to Montana, in a small town, practicing family medicine." Dr. Burfeind later joined Beartooth Billings Clinic, a Critical Access Hospital, in 2016 and is now one of the nine rural healthcare providers at Beartooth living, working, and raising his young family in Red Lodge. His family enjoys hiking, skiing, camping, and getting his children involved in activities such as ice skating and horseback riding.
His practice at Beartooth keeps him involved in every facet of family medicine with self-identified strong points in sports medicine, geriatrics, and pediatrics. Giving him variety, Burfeind's time is split practicing family and primary care in the clinic with shifts covering the emergency department and hospital. He is a Fellow of the American Academy of Family Physicians, Beartooth Billings Clinic Hospice Medical Director, and is key part of Beartooth's antibiotic stewardship program to improve how antibiotics are prescribed for and used by patients to advance patient safety and improve outcomes. Accepting new patients, please call Beartooth Billings Clinic for an appointment at 406-446-2345.